If we had tried to compile a collection of the best smartwatches for women 12 months ago, it might have consisted of a string of angry emoticons and not much else. Happily times have changed, the industry is starting to catch up and we are in single digits for the number of smartwatches our female staff members wouldn't hastily cover up with sleeves in public.
Mens watches have a pretty set style but most of the smartwatches here come in a range of styles, sizes and finishes or even the option to go bespoke with your own concoction.
Read on for smartwatches for both iPhone and Android smartphone owners. This list will be updated with relevant smartwatch reviews and new entries as – we hope – there will be a lot more to choose from by the end of 2016.
Coming soon
If you're about to buy your first – or second – smartwatch, we'd actually recommend waiting a little while longer as there's a few new devices to look forward to.
Hugo Boss Smart Classic
Slightly more classic looking than the Michael Kors option – the clue's in the name – but still boyfriend-y are these two upcoming Hugo Boss Smart Classic smartwatches. We don't know what OS they're running but there is a digital display, fitness tracking and smartphone alert handling onboard. In stainless steel or rose gold finish, there's croc leather straps and a dedicated companion Hugo Boss Smart Watch app. Coming to the UK in September, we're not sure about international availability yet.
Misfit Phase
The Misfit Phase is Misfit's first foray into smartwatches and so far, it looks good. The design marries an analogue style with notifications and fitness-tracking smarts.
With an elegant 41mm round face (the Phase comes in just one size), and tracks your steps, sleep and distance, giving you access to all your stats on the accompanying app.
Interestingly, the Phase's pretty analogue face does more than tell the time. It can inform you of incoming calls, texts or other updates, alongside a little buzz. Each type of notification also has a corresponding color on the watch hands that will also display in a small window at the bottom of the face, to so you know exactly what the watch is telling you. The Misfit Phase will be available from November 7.
Samsung Gear S3
The Samsung Gear S2 was a great success on our wrists for women in the Wareable office and we're hoping the Gear S3 will garner the same results. It is larger this time around at 46mm steel case weighing 57g, compared to the S2's 44mm case. But just like the other chunky timepieces on the list, it's really a matter of style preference.
Speaking of style, there are two choices from Samsung: the Classic and Frontier. There aren't huge differences between the two except the latter closer resembles a sports watch and has a third LTE flavor available. There are interchangeable bands that can be swapped in as well for a more feminine look.
While there's plenty of onboard sensors including GPS, the watches aren't waterproof – just water resistant meaning no swimming allowed. You do however get a larger battery and likely an extra day of usage from the Gear S3. Pricing and availability are still up in the air but it's expected to release mid-November for around the same price as the Gear S2, or a bit higher.
Asus ZenWatch 3
Asus has ditched its square smartwatch design for the ZenWatch 3, the latest addition to the Android Wear family.
Initially Asus said the smartwatch would cost €229 and now we know that the US price will be $229 (nothing for the UK yet) and it will go on sale in early November. That's a pretty decent price considering most on-brand smartwatches go for $300 and up.
Despite the low cost, Asus isn't cutting corners on design either. The circular watch is fashioned from jewellery-grade 316 stainless steel and a diamond cut bezel. The improved looks extend to the bands as well with the watch set to be available with an Italian leather or high quality rubber straps in dark brown or beige shades.
At less than 10mm thick with the display measuring in at 1.39-inches, the Zenwatch 3 comes in rose gold, gunmetal and silver. Taking a cue from its predecessor, the upcoming watch will be IP67 water resistant.
Tested
And if you can't wait, here's our pick of what we've worn so far.
Apple Watch Series 2
The Apple Watch is still probably the best smartwatch for iPhone users. Android Wear watches like the Moto 360 2 and Huawei Watch below do work with iOS, but not as well as they do when paired with an Android phone.
Now you at least have the choice between the first Watch or the new Apple Watch Series 2. It's not exactly groundbreaking in design considering it looks near identical to the original however it's chock full of better features like waterproofing and GPS.
Like the Series 1 Apple smartwatch, Series 2 comes in 38mm and 42mm sizes – though you do sacrifice some battery for the smaller size – as well a range of finishes and band options from the Milanese loop to nylon and new Hermès accessories. Though it looks nothing like a traditional wristwatch, Apple's Watches are still the most flawlessly finished smartwatch we've seen and can look quite chic nestled on a wrist stacked with bracelets.
It boasts native apps which run even when your iPhone isn't nearby and a handy Time Travel feature to scroll through your agenda. We said in our review that "core smartwatch features like notification support and communicating without a phone are more refined." It's not perfect – battery life is only better by one day – but it's definitely an improvement on the first iteration and still a looker.
Michael Kors Access – Bradshaw
The first big fashion name with real star power to get involved with Google's Android Wear platform is Michael Kors.
The series consists of two styles with the Bradshaw Access the one women can choose. At 44.5mm, 14mm thick and weighing more than 110g, the Access is larger than its non-smart counterparts and several other women-friendly timepieces. However, it can also be seen as a fashion statement where bigger is bolder and thus better regardless of the fit.
You can either get it resized or opt for a different watch strap as well. If choosing the latter, there are plenty of bands to pick from including four 22mm interchangeable silicone straps (black, white, blue and red) sold separately for £34.90 and six 22mm leather straps (brown, white, red, black, embossed tan and embossed snakeskin-effect) which are £39.90 each.
The Access Bradshaw itself is available in a variety of styles as well and includes eight colours: tort gold, pave gold (£379), gold/turquoise (£359), silver, a metallic blue and metallic brown (£329).
Moto 360 2
Now to Android, or Android Wear specifically – our top AW pick for women right now is the Moto 360 2.
A big part of this, as with the Apple Watch, is the two sizes available – 42mm and 46mm – and the levels of personalisation available with Moto Maker. The round-faced watch can look really classic in rose gold or gold finishes, the special 'womens size' lugs, and the smaller 16mm straps.
The one thing that might put you off is that it is still chunky sitting on the wrist so bear that in mind. In terms of features, it's almost identical to other Android Wear watches so there's nothing really standout beyond the usual alerts, accurate-ish heart rate monitoring and voice controls.
In our 3 1/2 star Moto 360 2 review, we said: "The Moto 360 2 improves on some key problems with the first Moto watch – performance and battery – but there's nothing that really moves smartwatches on. If you're sold on Android Wear and are willing to accept its flaws the second gen Moto 360 is an affordable, stylish, everyday smartwatch."
Pebble Time Round
The $249 Pebble Time Round should be on the shortlists of any style-conscious smartwatch buyer.
It doesn't have that trademark, long Pebble battery life – now it's only two days and the display is colour e-paper rather than LCD. But it's one of the thinnest, lightest smartwatches we've worn yet. It weighs just 28g and is 7.5mm thick – by comparison the Moto 360 2 is 11.4mm so that's damn impressive. It really does look no different to a regular watch.
With two band sizes, of a skinny 14mm and more regular 20mm, and three finishes of black, silver and rose gold, the round, two tone Pebble could be a big hit with women buying their first smartwatch. As ever, it's compatible with both iPhone and Android so you're not tied to one handset.
On the features side, as it's a Pebble Time, you now get access to its ever improving Health platform which includes activity and sleep tracking. We're not expecting a replacement any time soon as Pebble is focusing on its new Time watches and Core wearable but the Kickstarter campaign did also feature limited edition gold and silver finishes for the Round.
Olio Model One
This luxury smartwatch option definitely has the boyfriend watch look about it but Olio Devices' Model One does now come in real, 24-karat gold and 18-karat rose gold-plated finishes.
With smaller watches due in the future, the 47mm, limited edition Model One offers a bespoke watch face for each design, custom alligator grain on the Italian leather bands and Olio Assist, its cloud-based personal assistant which CEO Steve Jacobs boasts is more helpful than Google Now.
It's iOS and Android compatible, has a two day battery life and can also be matched with stainless steel link bracelets. Olio luxe doesn't come cheap though and in our hands on from Baselworld, exec editor James Stables said: "Olio's mission was to add style and individuality into the smartwatch market, and it's achieved that in some respects. But now it has to contend with big name fashion brands doing the same thing – and that's a tough fight to win."
Huawei Watch
The Huawei Watch is another Android Wear smartwatch which means it runs on the ever-improving, Android Wear. Like Motorola, Huawei chose a round faced, stainless steel watch and went big on customisation with its first smartwatch. There's a range of styles and finishes available. It is at the higher end and it's a matter of personal opinion whether it's 'worth' the money.
The 1.4-inch display is a selling point, at 400 x 400, it's the highest resolution we've seen on Android Wear watches yet and it's also IP67 water resistant and compatible with Jawbone's UP platform for fitness tracking.
At 42mm in diameter and 11.3mm thick, it's essentially the same size as the Moto 360 2 but it is finished carefully with scratch-resistant sapphire glass and really skinny bezels. Head over to our Huawei Watch review for the full verdict.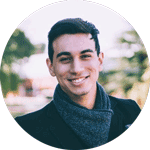 Latest posts by Nelson James
(see all)