Better than iTunes for iPod iPhone and iPad
Don't just copy files to PC and iTunes: But also transfer files from PC & iTunes to iPhone, iPod and iPad.
Convert music & video: Automatically convert to iDevice-compatible formats during transfer.
Copy photos between Apple devices and PC: Drag photos to your iDevice or save to your PC to print & share.
Fully manage your iPhone contacts: Manage contacts: Edit, import, remove duplicates & more.
Directly transfer between Apple devices: Transfer music, photos, contacts and more from one Apple device to another.
Key Functions of iTunes Alternative ( TunesGo )
Transfer songs, videos, playlists, iTunes U, Podcasts to & from Your PC/iTunes.
Copy photos & albums to/from Your PC & iDevice.
Manage iPhone contacts: Import, export, remove duplicates & sync with Outlook;
Build-in converter, convert any videos and songs to iTunes/iDevice compatible format;
Optimize for iOS7, support all series of iDevices, even the latest iPhone;
iTunes Alternative – TunesGo Detailed Features
Transfer files from iPhone/iPod/iPad to PC and iTunes
Only one click to transfer music from iPhone/iPod/iPad to iTunes and PC. Keep song info including ratings, play counts, skips and more;
Copy Videos, Movies, iTunes U, Podcasts and TV shows from iPhone/iPod/iPad to iTunes;
Recover playlists from iPhone/iPod/iPad to iTune;
Transfer purchased and non-purchased media back to iTunes library, including CD-ripped songs, YouTube downloaded music. Even copy songs from different Apple IDs to iTunes;
Copy Photos from iPhone/iPod/iPad to Computer
Drag and Drop to transfer photos between iPhone, iPad and iPod.
Create new photo albums on iPhone, iPad or iPod and add photos to your albums.
Only one click to copy camera photos and images from iPhone/iPod/iPad to PC.
Easy-to-use Phone manager for iPhone, iPad and iPod. Delete photos couldn't be easier.
Manage iPhone/iPad Contacts and SMS messages
Backup your iCloud, Exchange, Gmail, Yahoo! and iPhone's contacts onto a vCard or CSV (Excel) file on the PC.
Import/Export contacts to/from vCard file(s), Outlook Express, Windows Address Book, Windows Live Mail and Outlook 2003/2007/2010/2013.
Merge duplicate contacts on your iPhone's memory, iCloud, Gmail and other accounts with zero data loss.
Directly add or edit iPhone's contacts and split them into different groups from the PC.
Save text messages, MMS & iMessages with its attachments as a HTML/XML/TXT file on the PC so you can easily print it out later.
Transfer files between iPod/iPhone/iPad
Transfer songs between different Apple Accounts. You can connect multiple Apple devices to PC and copy files between them.
Transfer files directly between iPhone, iPod and iPad without iTunes.
Support all series of Apple portable devices including iPhone, iPod Touch, iPad, iPod Classic, iPod Nano and iPod Shuffle.
Not just an iTunes alternative but also a media converter
Works as iTunes to upload music & videos from PC to iPod/iPad/iPhone when iTunes can not recognize your devices.
Build-in media converter, convert any audio & video to iPod/iPad/iPhone compatible formats. For DVD movies, please use this DVD Converter.
Copy playlists from PC/iTunes to iPhone/iPod/iPad.
Create playlists and organize the music on your iPhone/iPod/iPad.
TunesGo System Requirements
Operating System: Windows 10/8.1/8/7/XP/2003/Vista
Processor: 750MHz Intel or above, or AMD CPU
Free Hard Disk Space: 200 MB or more
RAM: 256 MB or above
TOP ITUNES ALTERNATIVES FOR MAC AND WINDOWS
iTunes is dead, and it's about time. The eighteen-year-old app has been struggling to cope with its own bloat for many years now, and something had to change. So with the release of macOS Catalina, we'll no longer see the familiar white musical icon on our dock. What will you use instead? You're unlikely to want a direct replacement that replicates everything that was wrong with iTunes. Instead, Apple users will be offered a suite of new official apps that together cover the functionality you need and let you access the media you purchased in the past or subscribe to now. I imagine these apps will be the top choice for most Mac users. What about Windows users? You'll be able to continue using iTunes exactly as you have been for some time to come. Nothing has changed. That may come as a relief, or possibly a huge frustration. Change is in the air. Whether you use a Mac or PC, if you're ready for something different, we'll cover a range of alternatives that will suit the way you consume your media, and help you escape the iTunes ecosystem.
Apple's Replacing iTunes with a Suite of New Mac Apps
I've been using iTunes since it became available for Windows in 2003. Initially, it was an audio player that made getting music onto my iPod so much easier – something that wasn't simple for Windows users before that. The iTunes Store didn't exist, so the app included features to rip music from your CD collection. Since then new features have been added on a regular basis: video and podcasts support, iPhone and iPad backup, and the iTunes Store. Now, instead of one large app trying to cope with all of this, three new more responsive Mac apps (and one old one) will handle those duties.
1. Apple Music
Apple Music will allow you to access Apple's streaming service, your music purchases, the audio files you imported into iTunes, and any playlists you created. Unlike iOS, on Catalina, you'll be able to purchase your music right in the app rather than needing a separate icon for the iTunes Store.
The new Apple Music app is the ultimate music streaming experience on Mac. Explore a library of 50 million songs, discover new artists and tracks, find the perfect playlist, download and listen offline, or enjoy all the music you've collected over the years. And find it all in your music library on all your devices.
2. Apple TV
Apple TV is the new home for your movies and TV shows, including those you purchased from iTunes or imported from your DVD collection. It will also give you access to Apple's TV Plus subscription service when it launches in November. It's also the new place where you'll purchase new video content from Apple.
The Apple TV app for Mac is the new home for all your favorite movies, shows and — coming soon — Apple TV+. Watch everything directly in the app or enjoy it offline, and discover the best of what's on in the Watch Now tab. You can even pick up where you left off on any screen, across all your devices. And for the first time, 4K and Dolby Atmos–supported movies are available on Mac.
3. Podcasts
I'm a huge fan of podcasts, and I currently use Apple's Podcasts app on iOS. The same app will now be available on my Macs as well, and I look forward to being able to pick up where I left off on my iPhone.
More than 700,000 of the best entertainment, comedy, news and sports shows are now available on your Mac with Apple Podcasts. Search for podcasts by title, topic, guest, host, content and more. Subscribe and be notified as soon as new episodes become available. And in the Listen Now tab, you can easily pick up where you left off across all your devices.
4. Finder
Finder is not a new app, but on Catalina, it's now a smarter app. It can directly access and manage your iOS devices, allowing you to back up your apps and data, and drag-and-drop new files onto them.
All of the ways you manage devices in iTunes will soon appear in the Finder on Mac. Your sync settings and previous backups in iTunes will be kept safe on your Mac after updating to macOS Catalina. Now that devices appear in Finder, it's also easier to drag and drop files you want to transfer all in one place.
Third-Party Alternatives
So Mac users get a lineup of new Apple media apps, and Windows users can continue to use iTunes. That means Apple remains a viable solution for your media needs. But if you're ready to step outside of the Apple ecosystem, here are some alternative solutions.
1. Use Alternate Streaming Services
Rather than purchasing music, movies, and TV shows, many users have switched to subscriptions, and perhaps you've already subscribed to Apple Music. There are plenty of alternatives, and I'm sure you're already aware of the main ones. These generally cost the same as Apple Music, but many also offer workable free plans. Apple doesn't yet offer a comprehensive video subscription service, though TV Plus, with limited original content, will be launched in November. So if you've already moved away from purchasing movies and TV shows on iTunes, you're likely already a subscriber to Netflix, Hulu, or another service. These start around $10 a month for an individual and family plans may be available.
And there's plenty of others. Subscription services are a little like the Wild West, and depending on where you're located in the world, prices will vary and other services may be available. It's easier to switch between streaming services because you're not losing anything. You just stop paying for one service and start paying for the next, and you can always change your mind in the future.
2. Use Plex to Manage Your Own Media Library
But not everyone's a fan of streaming services. Some users prefer to watch and listen to their own extensive libraries of audio and video content. If that's you, the best solution is to create a media server that can be accessed from all of your devices. That's something that iTunes could handle (as can the new apps), but it was never the best tool for the job. That title arguably goes to Plex.
Plex is the key to personal media bliss. Once you download our free and easy-to-use software where you store your files (usually a computer or external hard drive), it takes care of the rest. Plex magically scans and organizes your files, automatically sorting your media beautifully and intuitively in your Plex library. Once you've downloaded our app on your favorite devices, you'll be up and streaming everything in minutes.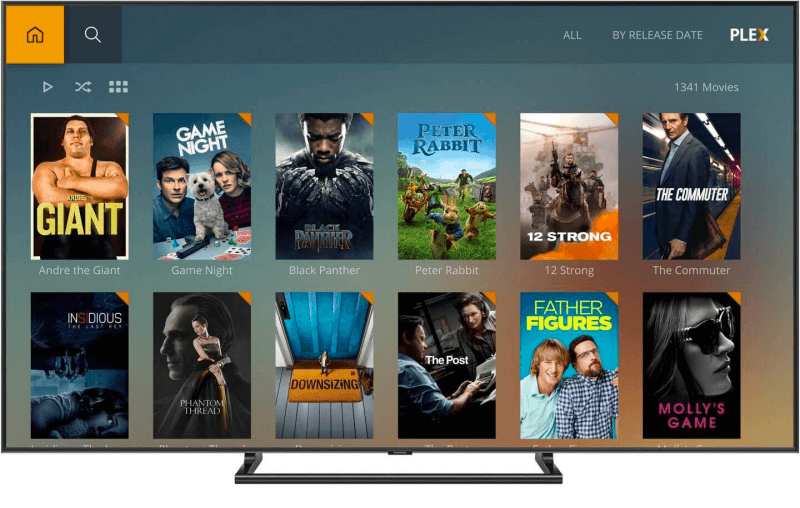 Plex can handle all of the media you have on iTunes: music, podcasts, movies, and TV. Because it's managing your own media collection, you get to choose the quality—all the way up to lossless. Once you've added your content to Plex, it's organized for you, and beautifully presented. Cover art and other metadata are added. You can access your content from Apple or Android TV, iOS and Android mobile devices, your computer or gaming console, and more. Plex is free software, but if you'd like to support the company, you can subscribe to Plex Premium for $4.99/month. This gives you additional features and early access to future ones, access to free-to-air TV via an aerial, media sync in addition to streaming, and other perks.
3. Use a Third-Party Media Library App
If you want to play your own content but don't want to go as far as a media server, use a third-party app to manage the music and video on your own computer. With the rise of streaming services, this software genre isn't as popular as it used to be, and some apps are starting to feel dated. I no longer feel this is the best way forward for most users, but if you disagree, here are some of your options. Kodi (Mac, Windows, Linux) is the quality entertainment hub formerly known as XBMC (Xbox Media Center). It allows users to play and view most videos, music, podcasts, and other digital media files from local and network storage media and the internet. The software is free and open-source, and mobile apps are available for iOS and Android.
Kodi spawned from the love of media. It is an entertainment hub that brings all your digital media together into a beautiful and user-friendly package. It is 100% free and open-source, very customizable and runs on a wide variety of devices. It is supported by a dedicated team of volunteers and a huge community.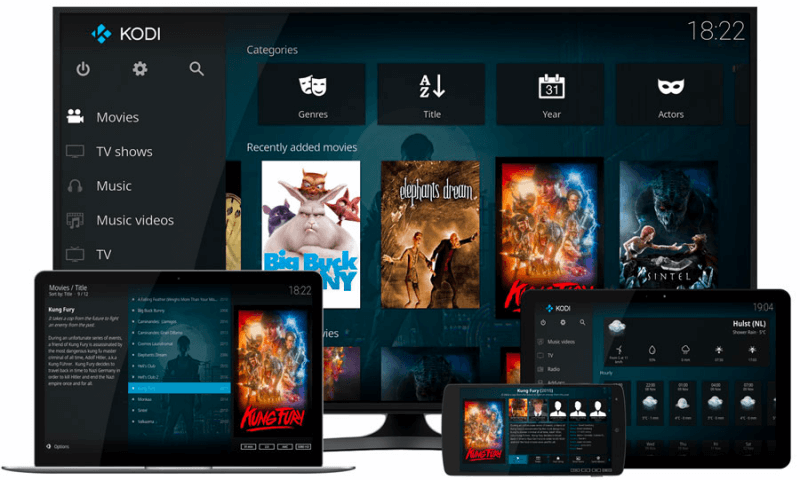 VLC Media Player (Mac, Windows, Linux) is a free and open-source cross-platform multimedia player that plays almost any audio or video media content, though it can feel a little technical at times. Apps are also available for iOS, Apple TV, and Android.
VLC is a free and open-source cross-platform multimedia player and framework that plays most multimedia files as well as DVDs, Audio CDs, VCDs, and various streaming protocols.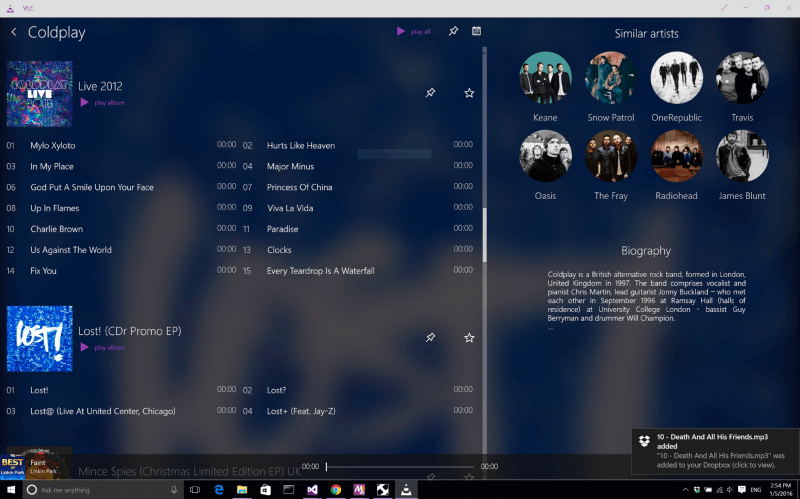 MediaMonkey (Windows) will manage your audio and video media, play it on your computer, and sync to Android, iPhone, iPod, iPad and more. The software is free, and MediaMonkey Gold costs $24.95 and includes extra features. I used it for many years, but it feels a little dated now.
Is your music library a mess? Movies missing artwork and other information? Scattered across various locations? Full of duplicates? Get MediaMonkey and get organized.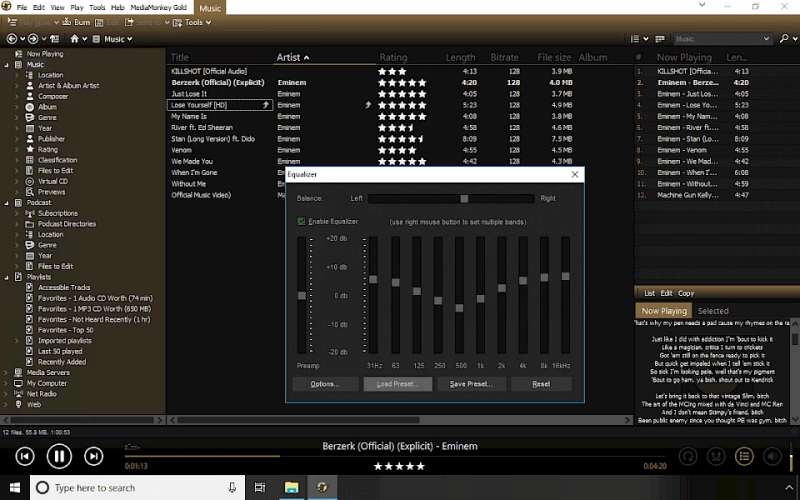 MusicBee (Windows) lets you manage, find, and play music files on your PC, and supports podcasts, web radio stations, and SoundCloud. It's free and can sync your music to Android and Windows Phones, but not iOS.
The Ultimate Music Manager and Player. MusicBee makes it easy to manage, find, and play music files on your computer. MusicBee also supports podcasts, web radio stations and SoundCloud integration.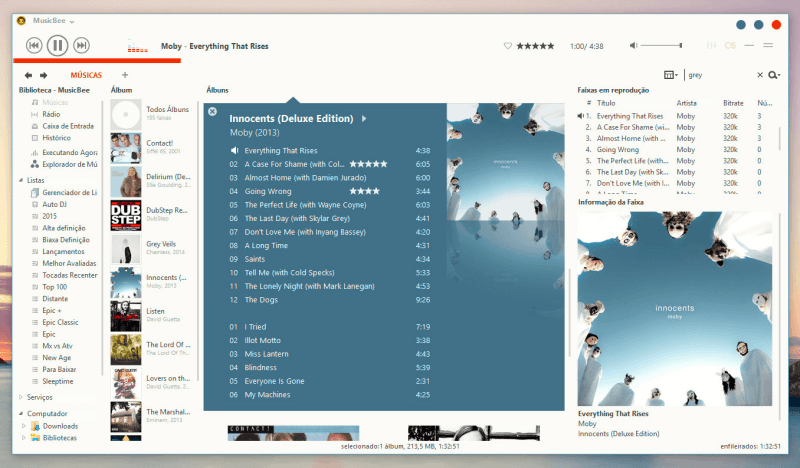 Foobar2000 (Windows) is an advanced audio player with a loyal following. It's free, fast, and functional, and will play your music on your PC but not your mobile devices.
Foobar2000 is an advanced freeware audio player for the Windows platform.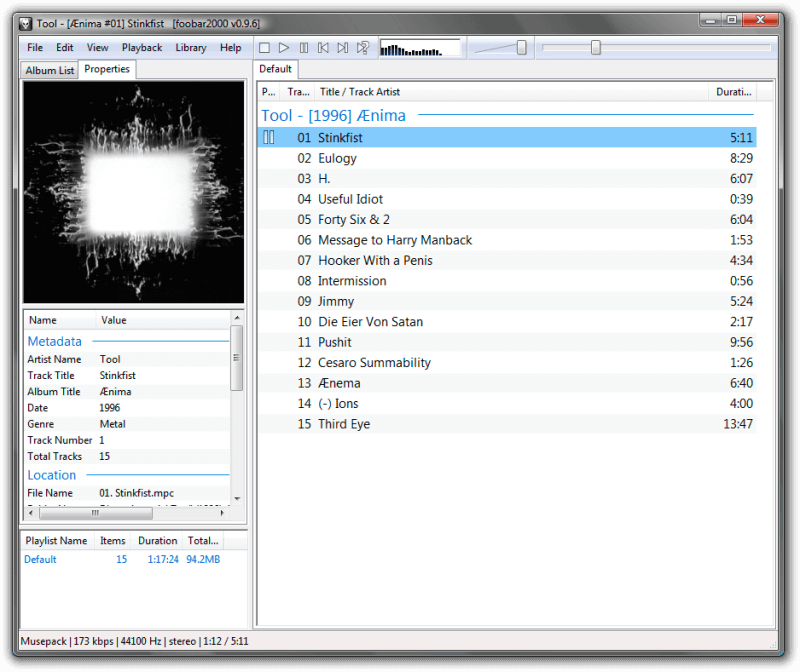 Clementine Music Player (Mac, Windows, Linux) is a music player and library based on amaroK, my favorite Linux music app. It can search and play your own music library, access internet radio, add cover art and other metadata, and add data to your iOS devices or iPods. It feels a little dated.
Clementine is a multiplatform music player. It is inspired by Amarok 1.4, focusing on a fast and easy-to-use interface for searching and playing your music.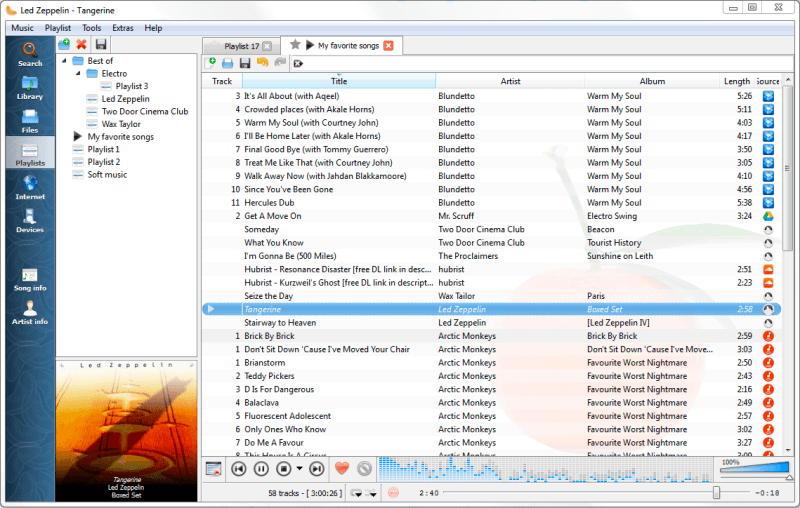 4. Transfer and Manage iPhone Files
If you've been using iTunes to backup your iPhone and transfer files and media files to it, there are a number of excellent alternatives. While many of us prefer to avoid wires and use iCloud for this, there are still many users who prefer the security of plugging their phones into their Mac or PC from time to time, being in control of their own data, and avoiding additional subscription costs. Does that sound like you? Here are your best options. iMazing will help you manage the data on your iPhone, iPad, or iPod Touch. It will back up your data, save and export phone messages, transfer your music and photos, and let you deal with most other data types. It's available for Windows and Mac, and costs $64.99 for one computer, $69.99 for two, and $99.99 for a family of five.
Manage your iPhone. Your way. Get a trusted software to transfer and save your music, messages, files and data. Safely back up any iPhone, iPad or iPod touch. Powerful and user-friendly, iMazing is simply the best iOS device manager for Mac and PC. Get full control over your iOS device. Get iMazing.
AnyTrans (Mac, Windows) allows you to manage content on an iPhone or Android phone, and also iCloud. It will back up your phone, help you move content to a new phone, transfer media content, and much more. To manage iPhones it costs $39.99/year, or $29.99/year to manage Android phones, and Lifetime and Family plans are available.
AnyTrans is your complete content manager for all situations. No matter you want to manage content on iPhone, Android devices or cloud drives, the best solution is always right at your hand.
Waltr 2 is a little different. It offers a drag-and-drop interface that will transfer media files to your iPhone either while plugged in or wirelessly via AirDrop. It costs $39.95 and is available for Mac and Windows.
Drag-n-drop Music, Ringtones, Videos, PDF & ePUB files into any Apple device without iTunes (& no extra apps).
EaseUS MobiMover Free (Mac, Windows) is a pretty good free alternative, though it offers fewer features than the other apps. The free version doesn't include technical support, but you can get this by subscribing to the Pro version from $29.99/month.
#1 Free iOS data transfer in the world for iPhone, iPad with Windows or Mac. Also help you manage iOS files with computer easily.
So What Should You Do?
Are you happy with Apple Music? Have you invested heavily In the iTunes Store? Then nothing needs to change. Mac users can enjoy the new apps that come with macOS Catalina, and Windows users can continue to use iTunes just as they have been. But the winds of change are blowing, and if you've been looking for an opportunity to move out of that ecosystem, this might be the right time for you. If you're a streamer you may like to consider Spotify or one of the other popular services. The good news is that it's easy to switch between streaming services – there's negligible vendor lock-in. Just stop your subscription with one, and start it with the next, or even subscribe to several while you decide which works best for you. On the other hand, if you have your own large library of media content, Plex will make it available on all of your devices. It's full-featured, easy to use, and under active development. Unlike many other media players, Plex's future seems quite secure, so you can make it the new home for your media files for years to come.