Voice recording has become a very important activity nowadays as there are many occasions around us when the need of voice capturing can arise. Even from the school period there can be cases when a difficult lecture is held which would be beneficial if it the professor's voice could be captured, but even at later stages of the life the capturing of the exact conversation of an important business talk, or recording your voice to create a new, popular music video can all be great examples that demonstrate the need of recording tools. It is fortunate that several tools are readily available for this purpose, however many people cannot afford a large range of them, therefore we put together this article to show you the most beneficial tools from those which come free of charge so you can put them in use instantly for free voice recording software!
RecordPad
RecordPad software that can be described and introduced as a rather simple software which can be learned fairly quickly and put into use due to its easy and understandable design. The program is very lightweight but in the meantime it has a satisfactory range of recording options including the possibility to record computer sound, real voice via microphone or any other source of audio that is desired to create your wished audio content easily.
Reviewstown Audio Recorder
When it comes to free of charge tools that still possess capabilities that can help you efficiently do voice recording, Reviewstown Online Audio Recorder is a worthy one that must be ranked very highly on the list of the solutions who give free voice recording online. This tool is very versatile and accessible as it doesn't require installation but just the opening of the official website where a GUI can be directly launched and put in utilization for recording in no time. The tool can capture both the computer's and the microphone's sound, so it can be even used for two-way voice recording such as in case a live call is held where one person speaks through the microphone and the other one's voice reaches the recording as a system sound through the speakers.
Garageband
Garageband can only be accessed in case you possess a Mac operating system computer where you download this solution at no cost to fulfil you recording desires in a very acceptable way. Similarl to the previously tool this one is also rather designed for minor recordings and those who do not need to have very advanced recording and editorial features such as in case of music studios, and therefore it can serve as a reliable alternative for those who are open to have a more straightforward and therefore time-saving and easily understandable tool instead of a more complex and difficult to use alternative.
Power Sound Editor Free
Power Sound Editor can be regarded as a free voice recorder app for PC, that is able to process the incoming voice source from the used headset or the operating microphone and record it within seconds. The tool does this together with offering possibilities to also edit the recorded tracks within a very simple manner with a plethora of useful functions for the modification which can result in that the audio tracks are created fairly easily. This tool has a balanced approach meaning that in general it was not designed to be too technical but rather to act as a transition program between simplicity and technicality so it can be useful for many people.
Streaming Audio Recorder
When it comes to an audio recorder which users are looking for in order to describe their experience as a smooth recording and professional audio content creation with a combined audio recorder and editor, then Streaming Audio Recorder is a worth mentioning option. This program is a free voice recording and editing software that has a very high customizability potential with the chance to include a large range of quality options to as well as output format decisions, and therefore created a completely custom audio content which fits your exact need. Whenever you need to extract a sound from an online source or save your recording which you did via microphone, be sure to keep an eye on this tool.
iScream
iScream is another useful application among the group of apps which can be categorized as a free voice recording software for Mac since it is directly developed for Macbooks and other Mac operating system holders who can use it as an easy and good to use alternative. With the help of this program the creating and saving of voice recordings can become a joyful process, where the program efficiently handles the voice recording especially if you are using a headset which is the source of the microphone for even higher quality recording to be done.
Windows Sound Recorder
Window Sound Recorder is especially a free voice recorder download for Windows 7, which therefore can be considered as a good option for anybody who wishes to find the right solution for his or her voice and sound recording needs while he or she is being a user with a computer that is running any sort of Windows operating system. This is because the tool is readily installed from the first moment on a Windows computer, and therefore it can be straightforwardly found and started easily via the program panel in the start menu by typing in the name of the tool.
MooO Voice Recorder
The Moo0 Voice Recorder is a simple and friendly tool that offers straightforward recording options for everybody who wish to have a clean interface with no need to looking for the advanced options but just have direct recording, but in the meantime wish to have multiple source recording including the PC audio as well as the voice originating from the microphone. Therefore this is a very useful application in case you wish to record multiple sources of audio for creating your content, such as the audio originating from live calls, Skype or other online meetings, presentations or even audio streams from the internet which you can also combine with your vocal or narration.
Audacity
In case you have multiple devices at your hand or worry about having issues when you try to install and use a tool for free voice recording on various operating systems at the same time, Audacity can be helpful as it is an open source tool that is available to be used in a universal manner on computers with Linux, Mac and Windows installations too. The open source feature however also implies that the tool can handle a large range of general tasks and in case you don't want to go deeply into professional voice recording and modification of the content, it can be very satisfactory. However it is not as specific with its features as some advanced and pricey competitor solutions that are designed for more professional audiences.
Summary
The list of the aforementioned solutions is an example that is a good representation that many software are available which help you progress with your voice recording goals even free of charge as they share or possess powerful features which can either satisfy or even over exceed the expectations of someone who is looking for a free voice recording software. Therefore in case your ambitions are serious to find the best tool, have a look thoroughly through the available options, or you might as well choose the Audacity solution that will also surely make your needs come to realization possible.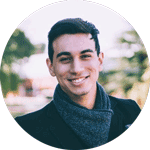 Latest posts by Nelson James
(see all)