We never stop emphasizing the importance of flyer or poster, and we think the role of a flyer in advertising is more effective compared to simple text. Because high-quality visual content can have a positive impact on increasing the visibility, involvement and influence, we also know that it is not easy to create an attractive poster without any graphic skills. But some online graphic editors can allow everyone, even beginners to create quality visual content. Here I will introduce a free online image editor to you: DesignCap.
What is DesignCap?
DesignCap is an online graphic editor that allows users to design a flyer with hundreds of templates, as well as thousands of resources. With an intuitive and clear panel, DesignCap helps users to create flyers in minutes for different purposes. Most importantly, DesignCap is entirely free to use.
---
How DesignCap works?
Once you clicked the "make a free flyer" button on its homepage, you can start to design a flyer using the editing tools which is on the left column. These tools offer the following functions:
Template
As I mentioned above, DesignCap provides a collection of professionally designed templates. It spans a wide range of templates, including vintage, cat, movie, school, music, travel, etc. To make your design creation work even easier, you can directly use the category filter to choose from hundreds of template.
Photo
DesignCap allows users to upload photos with a click. Or you can also input keywords to find photos you need from its photo library. By combining your own photos, you will get a more personalized result quickly and easily.
Text
If some fonts of the template you do not like, you can change the text easily. It is available to add heading, subheading and body text depending on your pleasure. The size, color and some effects of fonts can be adjusted with a simple click and drag.
Clipart
You can select from a range of graphic clipart to get a more unique and personalized flyer, such as shapes, icons, Emoji, embellishment, etc. DesignCap also gives you free opportunity to customize its size, position, property, and effect.
Background
It is possible to change the background color with a selection of solid color, gradient color or some other basic patterns. With changing the background color of the flyer, you can further improve your designs.
Once the creative process is over, just click on the save button to choose the format in which to save between JPG and PNG. If you prefer the PNG format, it is available to save it with a transparent or standard background. At last, you can share the results on your social media, such as Facebook, Twitter, Pinterest, Tumblr.
---
Summary
As we can see, DesignCap is one of the useful tools for those who do not have knowledge of graphic editing and want a quick, professional solution. The vital feature of DesignCap is easy-to-use with a clean and clear interface. What's more, it provides a wide variety of free templates through which you can easily get inspiration. Anyway, it can be an excellent choice when it comes to simple designs in which images and texts have to be combined.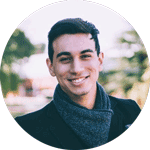 Latest posts by Nelson James
(see all)