iCloud is a free cloud service from Apple. It offers 5GB free storage for every Apple product user. One of the main features is that users can manage iPhone contacts on iCloud.com anytime anywhere, which helps the phone book stay up on date. They can add, deleted, edit, import, and export the address book on iCloud. The premise is that contacts should be synced to iCloud from the iPhone. Here are three solutions to show you how to manage iPhone contacts with iCloud.
Solution 1: Edit Phone Book With iCloud
Sign in iCloud on your computer. When entering the home page, select "Contacts".
1) You can add new contacts or groups by clicking the plus icon at the lower left.
2) And you can edit the selected contacts. Act as:
Select an item from the list.
Click the "Edit" button.
Then you can edit the name, company, phone number, email address, and more. And you can add a profile photo.
After that, click "Done" at the lower right corner. And what's more, you can delete the contact by clicking the red "Delete Contact" button.
Easy but practical, isn't it? Mark this article. One day it will help when you tend to manage your phone number list.
Solution 2: Sync iPhone contacts to iCloud
Step 1. Set to Sync Address Book on iPhone: Go to "Settings" in your iPhone. Scroll down and find out "iCloud". Then hit the ON/OFF icon and turn on "Contacts". When the pop-up shows and says "Your contacts will be merged with iCloud", select "Merge".
Step 2. Turn on iCloud Backup on iPhone: Go back to "iCloud". Scroll down and go to "Backup". Then turn on "iCloud Backup". When the pop up as below occurs, select "OK" and enable the phone to start iCloud Backup.
Turn on iCloud Backup
Note that your iPhone will no longer back up to your computer automatically when you sync with iTunes.
Solution 3: Import iCloud Contacts back to iPhone
Import Contacts from Computer: Click the gear icon at the lower left corner. Select "Import vCard" and import the VCF phone book from PC. Click "Open".
Import Contacts from iCloud: Select items you want and click "Export vCard". Import Contacts from iCloud.
Here are more free resources for iPhone:
Top 7 Free Phone Contacts Backup Apps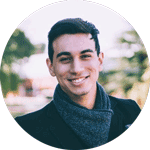 Latest posts by Nelson James
(see all)