Sometime you may have this problem: You have an old computer which holds all your iTunes library including music, video, movie, tv shows, etc. And now you get a new computer, you want to transfer iTunes library from the old computer to the new one.
And here is a step by step guide will provide two solutions to fix the problem;
Option 1: If you have an iPod, you can sync your iTunes library to the iPod, and then copy them from iPod to the new computer;
Option 2: You can sync iTunes to external hard drive and import them back to the new computer;
Now, let's start the guide.
Part 1. User iPod to transfer iTunes library to another computer
Step 1. Sync the iTunes library from computer to your iPod, I'm sure you can handle this step, so I'm not explain it here.
Because iTunes prevents copying music and video from iPod to computer, you need special software to bypass the iTunes limitation. I have tried many iPod transfers, and I strongly recommend this iPod to PC transfer. It's really easy to use. I have tested it with all series of iPod including iPod Touch, iPod Nano, iPod Classic, iPod Shuffle, iPod photo, even iPhone, they all works pretty well. Moreover, you can use it as an iTunes alternative, it's really useful when your iTunes can't recognize your iPod but you want to upload music and video to iPod.
Step 2. Download and install the iPod to PC transfer. For more information about it, you can visiting here. Run the iPod to PC transfer, plug in your iPod to the new computer, it will detect your iPod and scan your iPod, then it will return a list of the files on your iPod. Choose the list and files you want to transfer, Click the Start Transfer button.
Step 3. After you clicking the Start Transfer button, the following window will pop up; you can choose transferring to computer hard drive or iTunes directly. You can set the output fold at settings option before transferring.

Done, If you are Mac user, you may try this Mac iPod to computer transfer, the operation steps are similar to the windows version, so I'm not repeating here.
Part 2. Use external hard drive to transfer iTunes library to another computer
Since iPods get their music by syncing with iTunes, you'll need to either 1) tell iTunes to store music files on your portable external hard drive instead of your regular drive, or 2) import music files from your external drive into iTunes.
Step 1: Tell iTunes where to store music files
Open iTunes and select Edit — Preferences. Then click the Advanced tab where you'll find the iTunes Music folder location.
Click the Change button and choose a folder on your external hard drive (you might want to create one first if you want files to be stored in a particular folder on the new drive).
If you want all of your music files to be moved over from your main drive to the external drive, then make sure the Copy files to iTunes Music folder when adding to library option is checked.
Step 2: Import music into iTunes from an external hard drive
If you already have music video on a portable hard drive, and just want to get them into iTunes so you can sync up and get those files on your ipod, then you can just drag and drop those files onto your new computer iTunes.
You can also use the File — Add Folder to Library menu in iTunes, choose the music and video folder on your portable drive, and iTunes will add those to your library.
If you uncheck the Copy files to iTunes Music folder when adding to library option, which is on this same tab shown above, then iTunes will leave the files on your external drive.
In the checked state (shown above), iTunes will copy all of the music files from the folder on your external drive over to your main drive. That might not be what you want (particularly if your external drive has more files on it than the size of your main drive).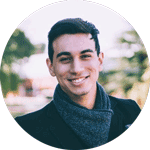 Latest posts by Nelson James
(see all)