Not everyone can do a wheelie, let alone pull any kind of stunt worthy of a top-of-the-line GoPro but that's ok, because wearable helmet cameras aren't just for the radical.
There are other, more practical reasons to record your ride. You might want to do it for purposes of safety, you may wish to analyse and improve your own performance, or you could be the type to torture your friends and family with the mundane footage of your commute. We're not here to judge.
These are the best head cams for those purposes, and they have different key features to action cameras. The ones on this list need long battery lives, they need to be light, they need to be waterproof and they need a video storage system that's not going to run out when you need it.
If that's what you're after, then feast your eyes on these lovelies.
Roadhawk Ride R+ Cycle Edition
Designed specifically for the two-wheeled pedaler, the Roadhawk R+ Cycle Edition directly addresses a lot of the right needs without charging for those features that are of no interest to the safety conscious. The 135-degree field of view is easily enough to pick up on what the rider sees in front of them, there's a time and date stamp to properly catalogue your evidence, and it's nice and lightweight too.
Battery life is a little low at 90 minutes but you can boost it to 4.5 hours with an official external pack. It's waterproof, shockproof and, most importantly of all, you can set it to loop record so that you never run out of space no matter how titchy your microSD card.
Shimano CM1000 Sport Camera
It's already a household name in bikes, so it should be of little surprise that Shimano is in on the helmet cam action. It's fairly light at 87g and comes with an f/2.0 lens that you can click between 135 and 180 degrees fields of view depending upon how fisheye you're prepared to go. That wide aperture also makes for good performance in low light conditions – perfect for those dusky commutes.
The real selling point, though, is that the CM1000 is ANT+ enabled meaning you can hook it up to any cycling sensor information you may be measuring such as cadence, speed, heart rate and anything else you'd like to jazz up your video. Lots to play with here if you're serious about your pedalling.
Drift Stealth 2
The Stealth 2 is the more diet head cam of Drift's range but you're still getting 1080p quality video and the 30fps frame rate should be enough for you to capture what you're after. It still comes in at under 100g, has a nice backlit screen and manages a three hour battery life. It's fully weatherproof and shockproof but, otherwise, it's a fairly budget affair.
You can't take it for a swim and there's no nice, cycle-friendly functions. WYSIWYG, and WYG here is no frills value. Perhaps the only other interesting feature is its rotating lens meaning that you can strap the Stealth any way you like and then twist the optics to make sure that up is indeed up.
Cycliq Fly12
Ok, so it's for your bicycle to wear and not for your helmet but it would be pedantic and remiss of us not to include Cycliq's setup of front and rear safety cams, which also double as bike lights. The forward-facing Fly12 has a stonking 10-hour battery life, loop recording and, of course, that built-in 400 lumens beam to make shooting at night very doable.
It might only have 1080p/45fps recording chops but it's all the software bits and pieces that make the difference. Those include proximity overlays on your footage to show how close a call you had with a car, a smart alarm in case anyone tries to pinch your kit, and Strava integration. All in all, hard to ignore.
Contour Roam 3
Super wide-angle, 170-degree field of view; Full HD video recording and waterproof down to 10 metres; and a really great price. It's only really the GPS and a few more frames per second that you might miss from Contour's higher-end 2+ HD helmet cam. For our money, we reckon the Roam 3 covers it, plus it has a longer battery life to boot.
The trade-off, perhaps, is that it's not quite as small and lightweight as some of the other budget-friendly options on this list. It's also a little feature-light compared to a few too. Nonetheless, very forgivable at this price point.
Replay XD Mini
Although mysteriously discontinued, it's still possible to find the Replay XD Mini camera if you do a little scouting around the web. Frankly, it's worth it if you're after the least noticeable helmet cam money can nearly not buy. It gives you Full HD in a bullet-shaped bundle adds just 60g to your ride and measures just 85mm in length.
You get a natural field of view, 60fps shooting if you're happy to drop the resolution a little and even space for an external mic, of all things. On top of all that, it's even waterproof down to 10 metres. With five-star customer feedback all over the place, why ever have they stopped making these things?
Kitvision Splash
It doesn't look like much, but with loop recording ensuring you never run out storage space, Full HD footage, and a waterproof case thrown in, the Kitvision Splash covers quite a few basis for hardly any outlay at all. It's one of the lightest on the list at around 70g but people probably will notice you wearing this fairly obvious little cube on your head.
Battery life could also do with a kick up the rear, so you'll have to be clever not to bash your head into its 90-minute power life ceiling. It also happens to look like a child's toy, but if that bothers you, just keep reminding yourself of how little it costs.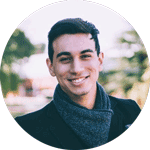 Latest posts by Nelson James
(see all)