Huami has taken what it's learned from its partnership designing Xiaomi's Xiaomi Mi Band 2 and Mi Band Pulse to create its own line of wearables under the name Amazfit.
While the Mi Bands are very fitness tracker-esque and somewhat run of the mill, there's no doubt the Amazfit offerings, Moon Beam and Equator, are elegant pieces that draw your eyes to the wrist. Its price point is also much lower than other 'fashion forward' trackers like Fitbit Alta and Misfit Ray. The Misfit Shine is cheaper but it's not as pretty to look at when compared to the Amazfit.
Taking inspiration from Chinese jade pendants, it's apparent the team has considered much about what makes a piece of tech a head-turning fashion statement. But that's not all that makes a successful wearable and unfortunately, the Amazfit is as buggy as it's beautiful.
Amazfit Moon Beam: Design and comfort
The Amazfit design team were aiming for a discrete fashion accessory and from the looks of the Moon Beam I tested, this has been achieved. There's no screen or discernible tech that makes it look like a smart device at all. While that's great for some people, the functionality doesn't feel fully used.
Take the Misfit Shine for example. The trackers are similar in that there's no screen, but tap on the top of a Shine and you can (kind of) figure out what time it is or see your activity progress through the LED lights. I can see why it would be difficult to incorporate lights into the Amazfits – it'd make the body chunkier and it's likely not even possible to see through the ceramic. But still, I kept looking down at it only to remember it doesn't tell the time.
The Moon Beam version is one of five designs, and comes with a petite, white leather strap (technically 'eggshell' colour) with a rose gold casing encircling the white ceramic body. You can also choose a black ceramic body with stainless steel, and a black leather wristband. The Equator option features a stainless steel casing that crosses the middle of the ceramic piece and has a double clasp. There are only these two colours – black and white/rose gold – for body and band right now.
The Rainbow option looks similar to the Equator but the metal parts are made in a 'Blush' colouring with a rubbery looking string that spans across the ceramic body. Finally, there's a rubber sport band and two necklaces with sterling silver or black waxed cord. It sounds like a lot of choices and Huami plans on releasing even more colours and styles if the Amazfit line garners enough interest.
Though I haven't seen or used the other styles up close, they're all still visually striking and I wouldn't mind switching between the different designs. As it stands, the Moon Beam is extremely comfortable – probably the most comfy wearable I've worn, which is saying a lot – and fits really well on my tiny wrist. That's due in part to the band which actually is able to notch at the right place and the flat, ceramic disc that sits very close to the wrist.
Because it's IP68 certified, I can take it in the shower, do the dishes and even take it out on the water while kayaking. Despite the IP rating, the company still doesn't recommend using it for swimming or diving in the water so if you're after a swim tracker, it's best to look elsewhere. The Sport strap is also probably best suited for the water since leather won't stand up for long if it's taking too many dips.
I've also dropped it a few times while photographing it from about three feet (brushed accidentally off a coffee table) and it didn't even scratch the surface of the ceramic. The tracking still worked fine afterwards too. I'm not sure how it would do with more force or longer drops, but it probably wouldn't do too well.
Amazfit Moon Beam: Activity tracking
The Amazfit is able to track steps and figure out calories burned, monitor sleep and buzz for alarms or incoming phone calls. It's as basic as you can find, which isn't a bad thing if you want a pretty fitness tracker without the bells and whistles.
Step tracking has been pretty accurate compared with the Fitbit Alta. A few steps were off here and there but for the most part, it was on par with the other trackers. There aren't a lot of options of fitness customisations or auto-detection of other exercises. You basically only get step tracking for walking or running, though seasoned runners won't get the data they're looking for.
Sleep tracking looks at light sleep, deep sleep and how many times you've woken up in the night. You get the usual bar chart that lists what your night was like and not much else. For the most part, it doesn't look accurate and it's a bit hard to figure out. Reading the bars is simple enough but for some reason, after syncing and checking in the morning, the data gets pushed to the next day and it's a head scratcher trying to figure out which night you're looking at.
I also fell asleep much earlier than indicated in the image above on 12 August – but again, I don't even know if that's data from the correct night.
I expected the activity tracking to be on the lighter, simpler side since it's not supposed to be a 'fitness tracker' per-se. But still, it's pretty empty at this point and could do with a few more functions. Even a nudge to stand or move around would be something, since all that's really needed are the haptics to buzz a certain way.
Amazfit Moon Beam: The app
The app is very bare bones which is fine considering software can be updated. At the moment, you can check on your step progress, calories burned and sleep charts. You can head to the menu for your age/gender/height/weight profile and for settings to configure step goals and denote whether you wear the Amazfit on the wrist or as a necklace. There's also a battery life indicator on the top right where red means you're getting closer to needing a charge.
The app itself is sorely in need of a huge upgrade, revamp or major bug fix. Right now, it takes a ridiculously long time to sync up with the device, and that's not even counting first time setup, or the recharge syncing, which I'll discuss later.
After downloading the app, it found the Moon Beam quickly enough but later in the night it completely forgot about it. Pairing the second time around wasn't as successful and it took much longer for the app to connect. It took a few hard raps on the top of the ceramic with my knuckle to get the thing going.
Amazfit Moon Beam: Battery life
Charging requires you to take the ceramic body out of the band and place it into the charge cradle. This is a bit annoying, and is part of why I find using the Fitbit Blaze so irritating. Thankfully it's easy enough and you won't have to do it often because of the long battery life of 10 days (depending on usage). Charge time took about 40 minutes from a completely dead state.
I was able to squeeze 12 days out of my Moon Beam, probably because I was on a plane twice, not doing much except reading for about five hours and thus not really using it for step counting. But given more time I expect 10 days or more from the wearable.
The real problem is with recharging. After my tracker died and I started recharging it, half of my app data disappeared and converged into one day. I'm not sure if it's because the battery caused it to to fritz out or if it was a problem with the recharging. I tried syncing it again as it was charging up, but that made it worse and the data completely vanished. If it weren't for my previous screenshots, all my data would have been wiped entirely. Not good.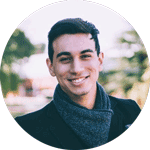 Latest posts by Nelson James
(see all)